Accessories
Accessories add to the enjoyment of the smoking experience (and some are necessities). At Stag we offer humidors, lighters – for cigars and pipes, cutters, humidification systems, pipe accessories, and much more.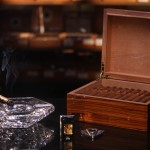 We proudly offer the entire line of quality Xikar products, and as one of the nation's largest Xikar dealers, we can advise you on the proper choice of a lighter for our high altitude environment.
We offer lighters by Xikar, Montecristo, DuPont, Corona, Cigar Savor, Vertigo and Vector.
Our humidor selection includes Canal, Diamond Crown, Craftsman's Bench, Savoy and Don Salvatore.
Cigar cutters by Xikar and Craftman's Bench.
Humidification systems by Xikar and Diamond Crown.
For the pipe aficionado we offer tobacco pouches, pipe cases, cleaners, humidification devices, tobacco jars, pipe racks and reamers.